Feature Project: 132 Bedok Reservoir / 4 room HDB / Scandinavian x Pops of Pastel / Monoloft
When it comes to small bedrooms in Singapore, you may find it challenging to create a functional and stylish living space without feeling cramped or cluttered. However, with a few smart interior design tips and tricks, you can transform your compact space into a stylish and functional oasis.
1. Utilise vertical space

Consider using the walls to hang shelves, hooks, or even a customised desk to maximise your storage space. This can help free up valuable floor space and create an open and airy feel.
We approach this 5-room HDB bedroom design with a bespoke multi-functional study table that doubles up as a bedside table. Using versatile furniture pieces can help make the most of every square inch while maintaining style and functionality. Furthermore, the wall shelves are a terrific space-saving solution because they take up little floor space while giving enough storage for books and decor.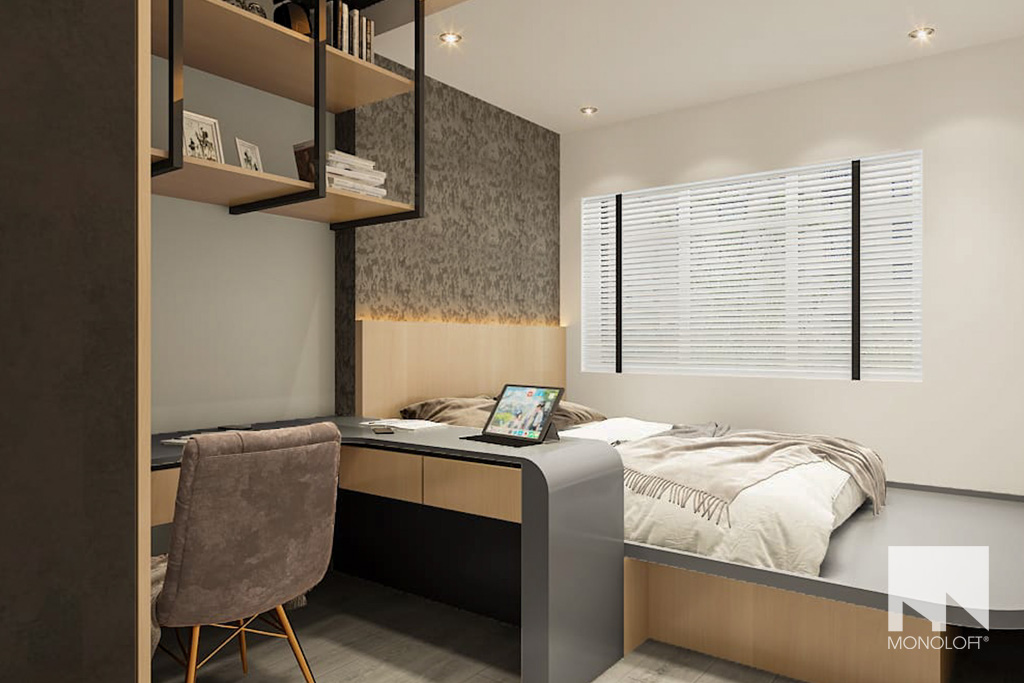 Featured Project: 641C Tampines Street 62 / 5 room HDB / Scandi-Luxury / Monoloft
2. Utilise Storage Solutions
When it comes to small bedroom design, storage is key. Consider investing in customised storage solutions, such as a platform bed with built-in storage or a full-height wardrobe. These solutions help maximise floor space while providing ample storage for your clothes, shoes and other items.
For this bedroom, we created a bespoke storage bedroom with a full-height closet in front of the platform bed and pull-out drawers installed under the bed. By integrating vertical storage solutions, this design gives enough storage space while saving valuable floor area.
To give a sense of sophistication to the design, we used a wood-tone herringbone pattern against light grey wall paints for a sleek Scandinavian aesthetic. In addition, the use of light and dark colours provides a contrast that makes the area feel larger.
324 Serangoon Ave 4 / 4 room HDB / Scandinavian / Monoloft
3. Play with colour and texture
You can make a small bedroom feel bigger and more inviting by using light colours and incorporating different textures. For example, a light-coloured rug can help create the illusion of more space, while a textured throw blanket can add visual interest and warmth to the room. Also, consider using a monochromatic colour scheme with varying textures to create a cohesive and stylish look.
For this condominium bedroom, we incorporate the interplay of light and colour. By contrasting the lighter arch panel with a darker shade of grey on the wall, we create a visual distinction that adds dimension and creates the illusion of expanded space. Add LED lighting behind the arch panel to enhance the illusion of more space. This will create a subtle glow that highlights the shape and texture of the panel while also making the room feel brighter and more open.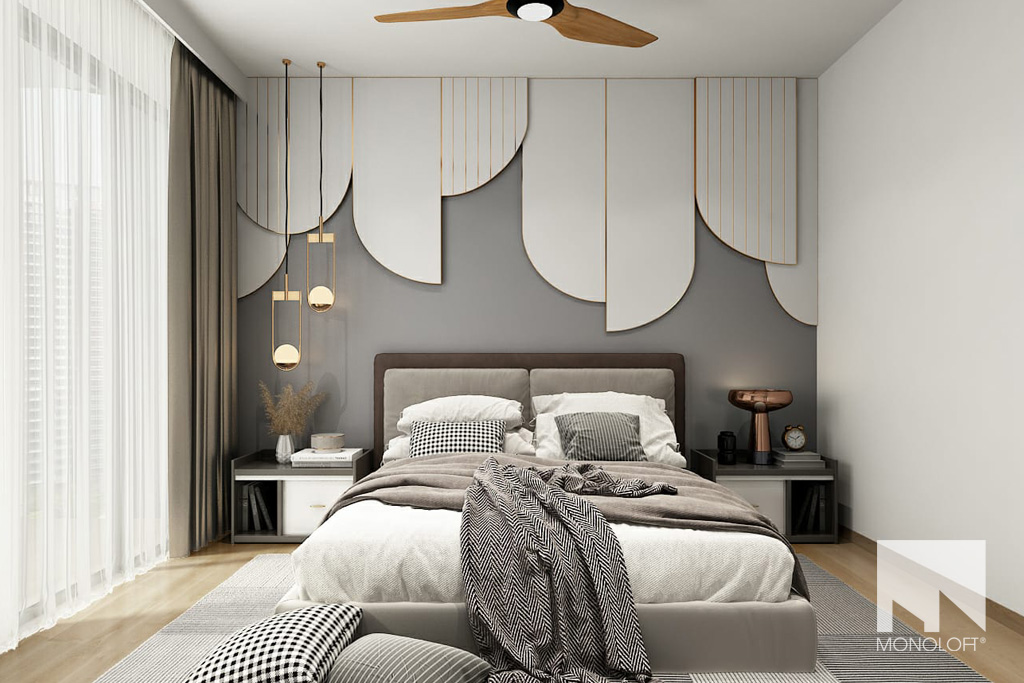 Katong Regency / 3 bedroom condominium / Contemporary / Monoloft
4. Use Light Colours
Light colours can make a small room look bigger and brighter. Consider painting your walls and ceiling a light colour, such as white, cream, or pastel shades, to create the illusion of more space. This can be complemented with light-coloured furniture and bedding to help create a cohesive and spacious look.
We painted the bedroom walls in neutral shades to create a sense of openness and airiness. Pairing this with an off-white full-height wardrobe adds to the illusion of space, as the light colour creates a seamless and cohesive look with the walls. 
Finally, light oak flooring provides a natural and warm touch to the room while adding to the spacious feel by reflecting light and giving the illusion of more floor space.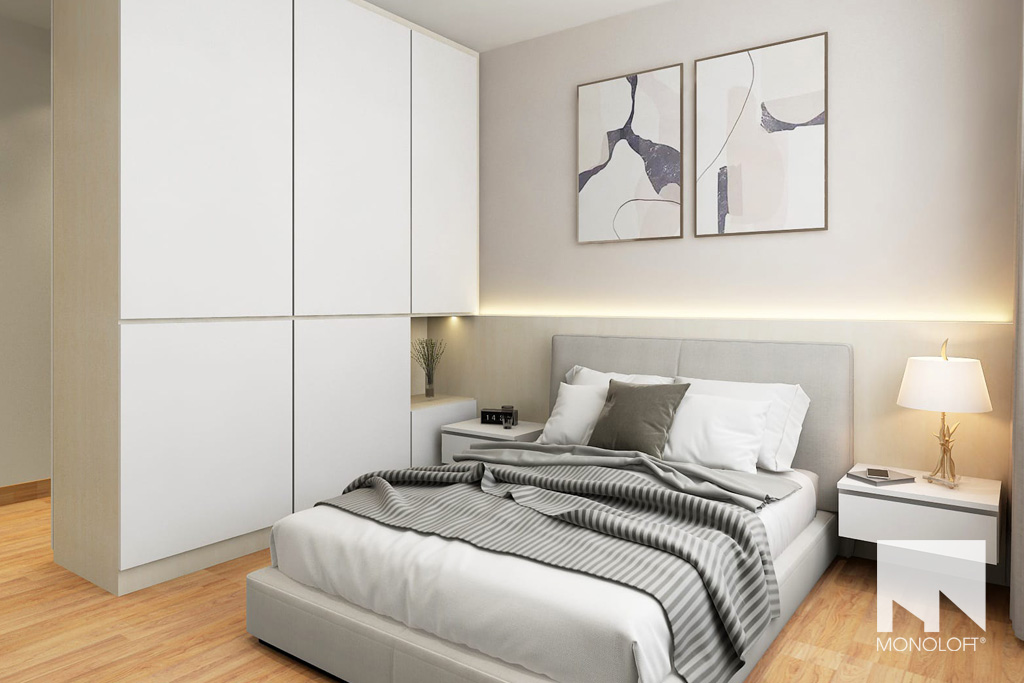 Featured Project: 654D Punggol Drive / 4-room HDB / Scandinavian-minimalism / Monoloft
5. Replace walls and doors with glass
If your budget permits, consider replacing solid walls and doors with glass. This gives the room a more open and airy atmosphere, enabling natural light to pour through and making the space feel more expansive. 
You can choose from frosted or textured glass to clear or coloured glass to suit your needs.
The homeowner desired a Scandinavian-industrial feel for this project. We remove the walls and replace them with glass to make the bedroom appear and feel larger while adding a touch of flair and sophistication to their living area.
The design allows for some solitude while maintaining the openness and continuous flow of the layout. Furthermore, it aesthetically divides the room without taking up a lot of real space: a win-win situation.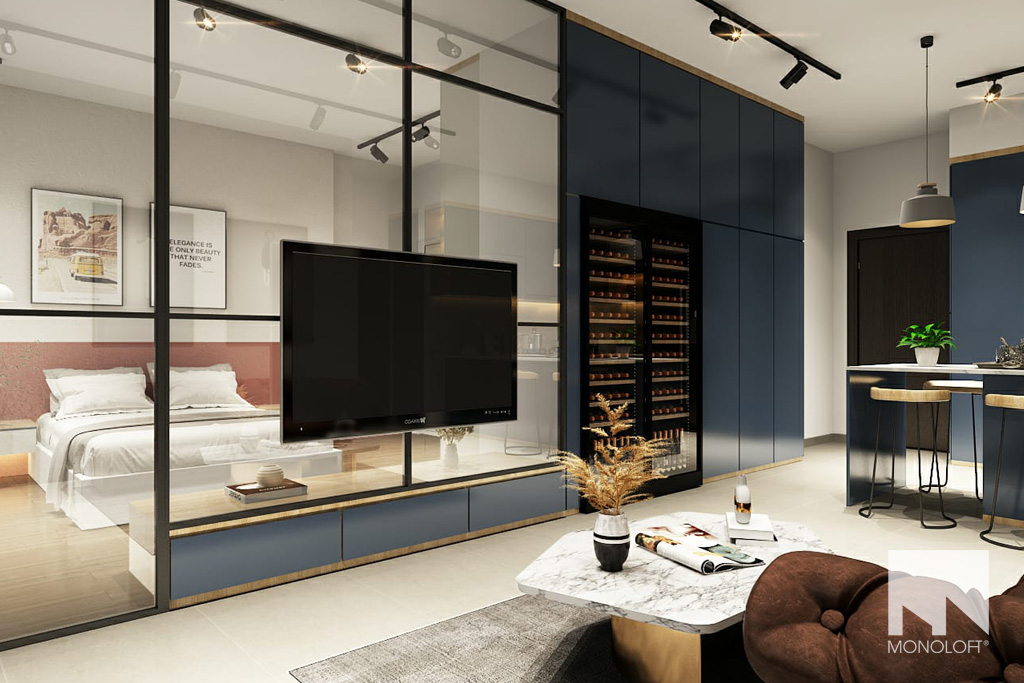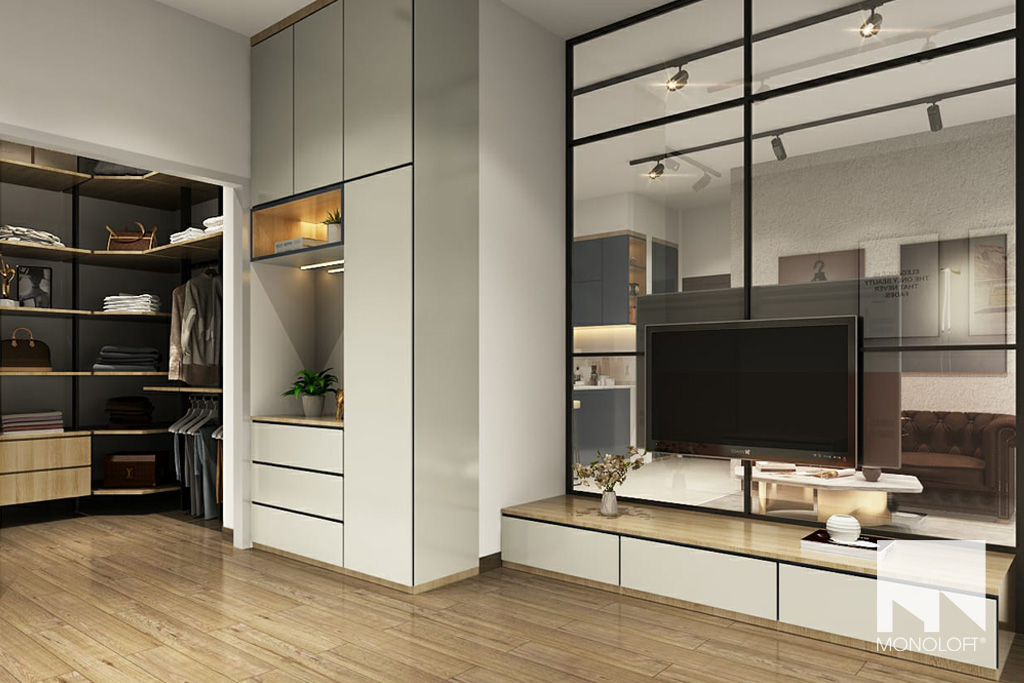 Featured project: The waterline / 3 bedroom condominium / Scandi-industrial  / Monoloft
Incorporating these five tips into your small bedroom interior design will help you maximise the space without sacrificing style or functionality. Embrace Scandinavian design principles, utilise vertical space, opt for multi-functional furniture, use light colours, and employ clever space planning solutions to create a visually appealing and practical space. Whether you're undertaking an HDB interior design project or simply renovating your home in Singapore, these tips will help you transform your small bedroom into a stylish haven that maximises every square inch.
For more inspiration and ideas on interior design in Singapore, consider consulting with our professional interior designers to see how we can help you create a personalised and stylish living space.