Modern Luxury Condo Interior Design in Singapore:
A Dark Twist on Elegance
Welcome to The Tapestry, a luxurious abode located at 53 Tampines Street 86. This stunning property was renovated by our talented designer Joseph, and the transformation is nothing short of breathtaking.
Room Type: New Launch Condominium
Location: The Tapestry
Home to: A Couple and their Corgi
Size: 990 sqft
Renovation Period: 3.5 months
The property is a new condominium, but the couple who owns it did not quite fancy the design and fittings. They wanted to transform the space into a luxurious comfort hotel where they could entertain friends and also find a relaxing home for themselves and their pet dog, Snoopy.
Inspired by the luxurious comfort of hotels, Steve and Shu Hua wanted an elegant and alluring modern luxury home. Noting the owner's refined tastes, designer Joseph from Monoloft was tasked to transform their 990 sqft space into a Modern Luxe masterpiece.
Joseph worked closely with the couple to understand their vision and requirements, including a dark colour palette with black marble, gold trimming, dark wood tones, and tinted glass for a luxurious look. With these ideas in mind, Joseph embarked on a 3.5 month renovation project to turn their condominium into a stunning haven of comfort and sophistication.
Entryway
Upon entering from the main door, you'll be greeted by a one-of-a-kind half-circled tinted mirror that wraps to the back of the living room wall with full-height shoe cabinets in dark marble laminate with gold trimming.
This is a useful storage solution because homeowners have an extensive collection of shoes. The uniquely illuminated half-circled mirror feature wall adds warmth and light to the doorway, creating a pleasant atmosphere. We wanted to create an attractive foyer that introduces the homeowners' personalities while also welcoming their guests.
Isn't it lovely how the homeowner's Corgi named Snoopy is depicted in a framed artwork display on the foyer cabinet?
Kitchen Island
The dining area exudes sophistication, featuring a beautiful marble-top kitchen island complemented by stylish velvet bar stools in electric blue that offers guests a comfortable seat to enjoy a meal in style. A stunning pendant light is suspended above the table, emitting a warm and cosy atmosphere that sets the perfect mood for intimate dinners.
One of the standout design elements in this renovated condominium is the clever use of fluted wood panels. These panels, meticulously installed from the dining area ceiling, flow down to create an accent wall beside the TV feature. 
The fluted wood panels not only serve as a stunning decorative feature but also provide a functional purpose. By delineating the different zones within the open-plan living-cum-dining area, the panels create a sense of intimacy and privacy without compromising the overall spaciousness of the room.
Whether the homeowners are hosting a dinner party or enjoying a quiet evening at home, the fluted wood panels create a beautiful backdrop that enhances the overall ambience and elevates the living experience.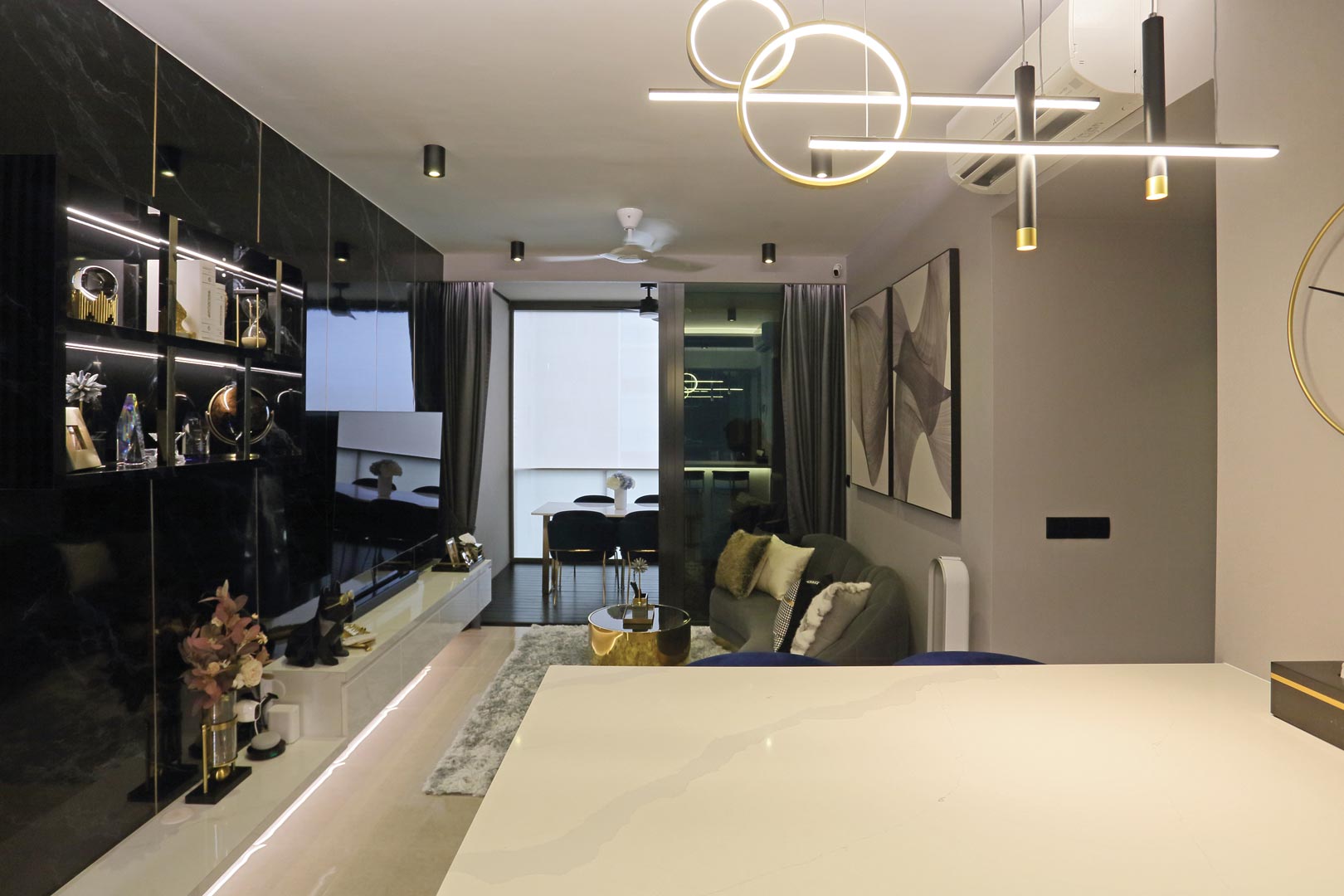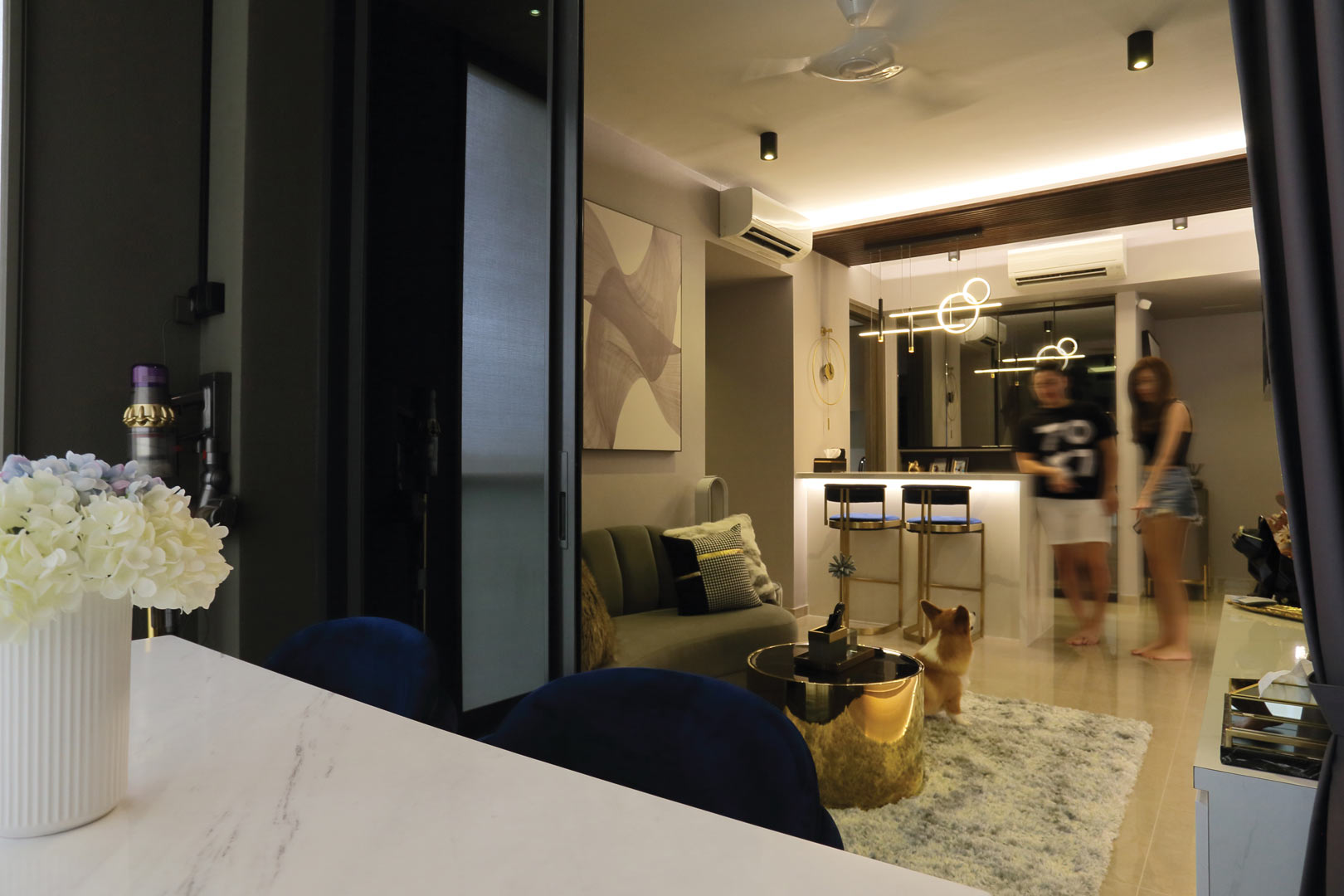 My experience with Joseph and his team at Monoloft was amazing! They transformed my first home into a modern and comfortable living space that exceeded my expectations. Their suggestions and designs were great, and they delivered the results within the promised timeframe.
Living Room
The living room is the heart of the home, and Joseph has done an incredible job of creating a welcoming and chic space.
The living space is elevated to the next level of luxury with a stunning contrast of black marble and gold trim. In addition, the recessed shelves with LED light display further enhance sophistication.
The customised floating TV console in white marbling, casting a mesmerising glow below, takes luxury to new heights. Step into a world of modern luxury with our impeccable interior design.
A plush dark grey sofa takes centre stage and is complemented by a statement coffee table in stunning gold-trimmed that adds a touch of glamour to the room. The walls in the room are covered in neutral grey tone textured wallpaper and adorned with beautiful artwork with a soft rug that ties the entire space together.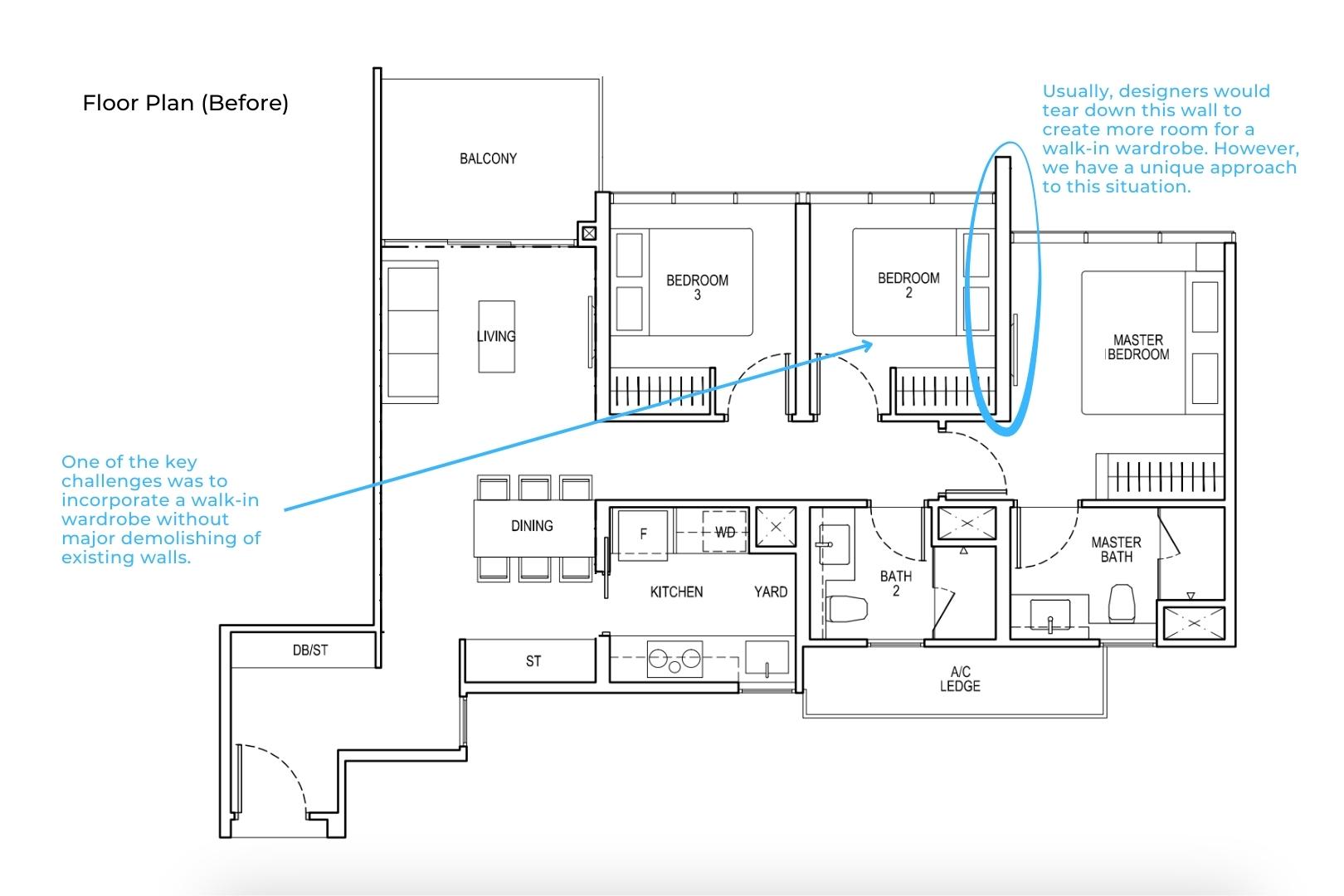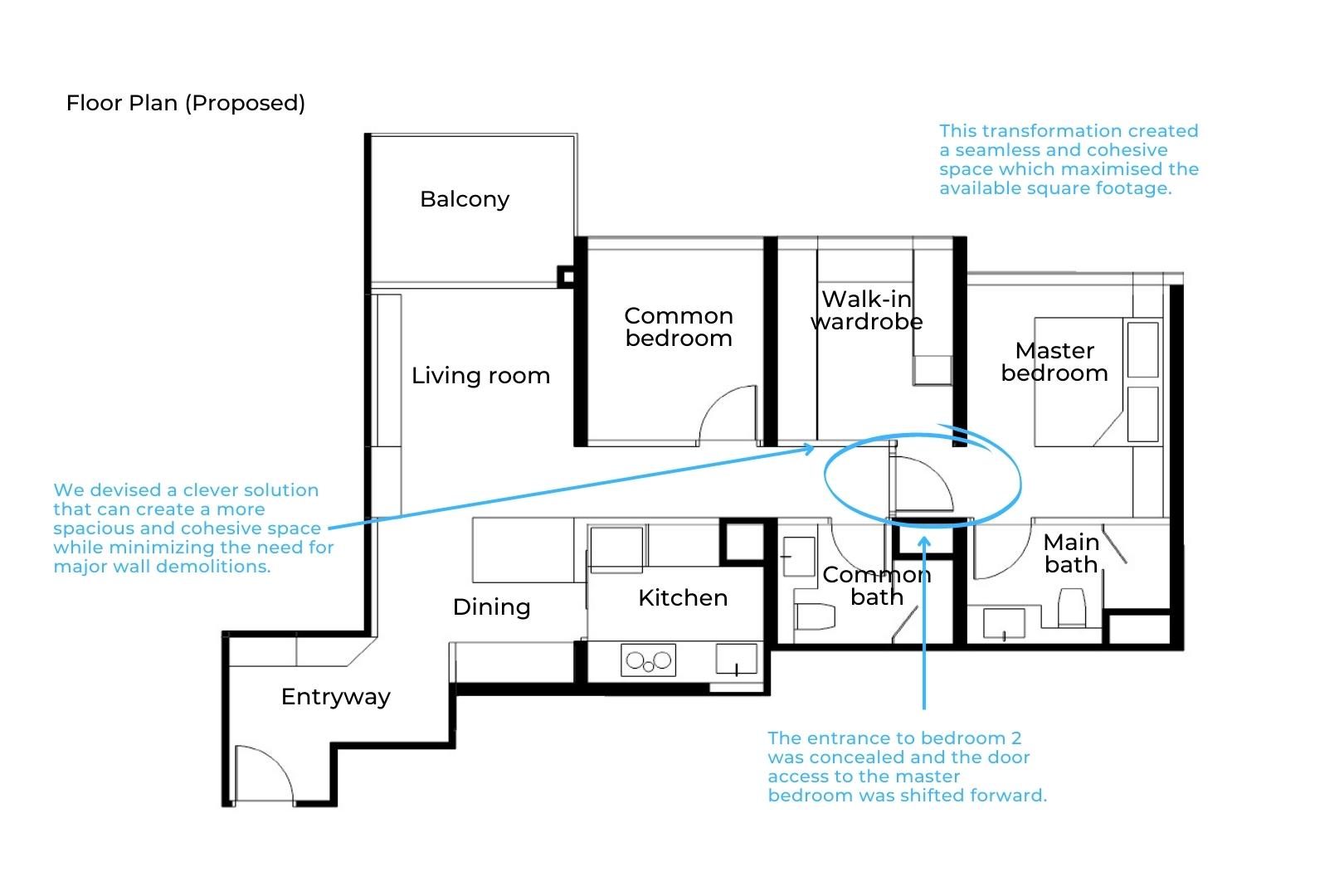 The Walk-in Wardrobe
Our approach to space planning in this remarkable renovation project was creative and practical. One of the key challenges was to incorporate a walk-in wardrobe without the need to demolish existing walls. To achieve this, we devised a clever solution by concealing one of the common room doors and shifting the entrance of the master bedroom forward. 
This strategic adjustment seamlessly connected both rooms, transforming them into one cohesive space. By concealing the common room door, we maximised the available square footage, allowing us to create a dedicated area for the walk-in wardrobe.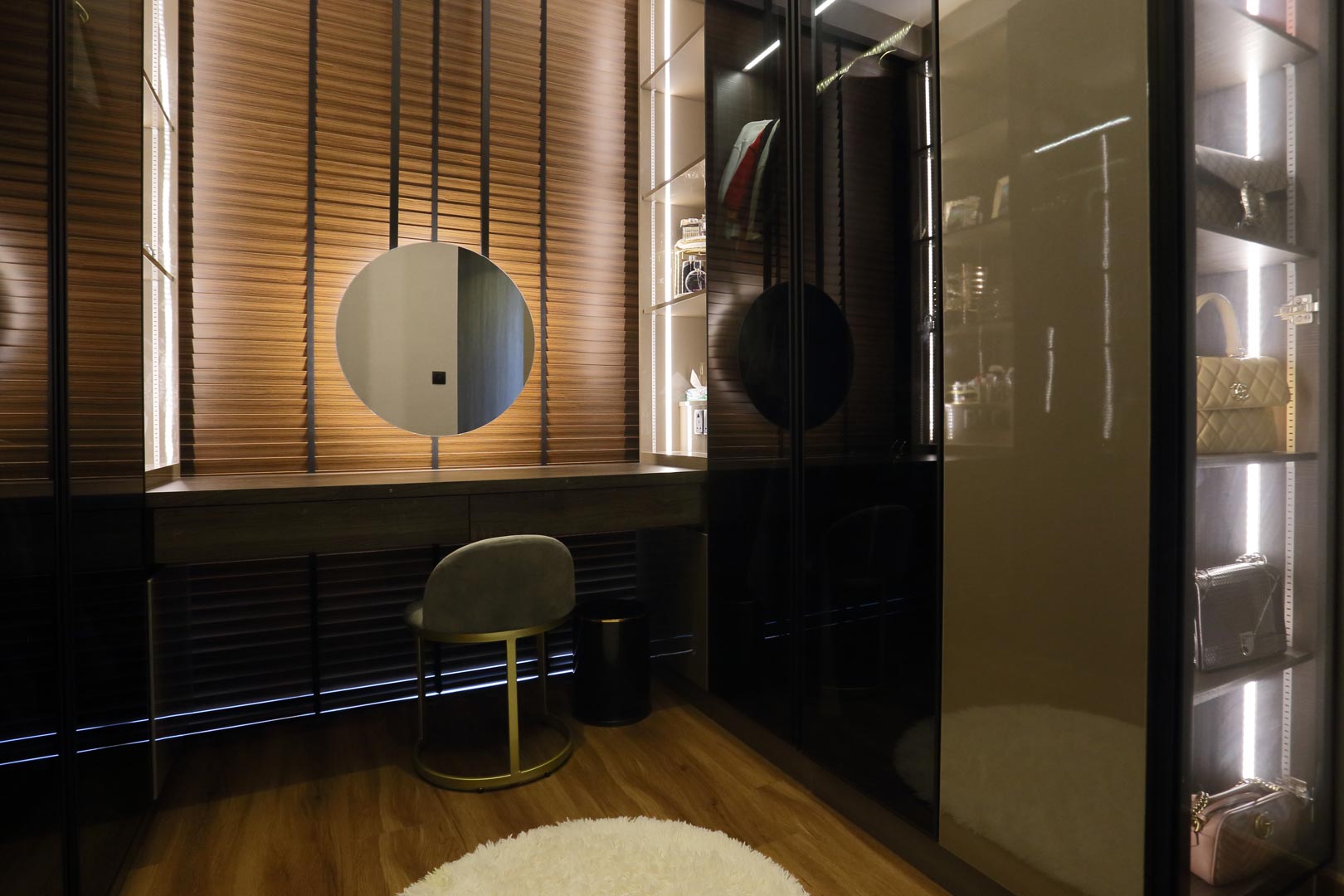 The newly unified space offers ample room for storage, organisation, and easy access to the homeowners' clothing and accessories. This thoughtful space planning layout not only eliminated the need for costly wall demolitions but also enhanced the overall functionality and aesthetics of the master suite. The seamless transition between the bedroom and walk-in wardrobe creates a sense of luxury and sophistication while optimising available space. 
We suggest a U-shaped walk-in wardrobe layout with two rows of full-height wardrobes on either side. The design also features a customised dressing table with pull-out drawers against the wood-tone window blinds, giving the space a cosy feel. In addition, the wardrobe has dark-tinted glass doors, illuminated garment rails, and backlit shelves, creating a stylish and roomy ambience. The closet system is chic and functional, organising the homeowners' clothing collection.
The Master Bedroom
The bedroom is a true sanctuary, with a luxurious king-sized bed that is covered in sumptuous linens and pillows. One of the key design features that add a touch of luxury to the master bedroom is the headboard. We crafted a stunning headboard using dark wood-tone fluted panels with tinted mirror panels accentuated by elegant gold trim.
The choice of dark wood tones adds a sense of richness and sophistication to the bedroom and establishes a visual connection with the dining area's design. Furthermore, by utilising wood-fluted panels in both spaces, we create a harmonious and cohesive design scheme that flows seamlessly from one area to another. 
Adding floating shelves is an excellent method to embellish the wall across from the bed. We have created a modern and functional wall storage unit in a dark wood finish beneath the TV, perfect for storing things like remote controls. The storage unit is equipped with soft-close hinges for easy and silent operation.
Another great way to decorate a wall opposite the bed is with floating shelves. We've designed a stylish and practical wall storage unit in a dark wood tone below the TV to keep things like remote controls in. It features soft-close hinges for effortless and quiet use.
All in all, the couple's new condominium is now a stunning example of Modern Luxury interior design, with its dark colour palette, plush furnishings, and elegant finishes.
And let's not forget about Snoopy, the couple's beloved Corgi, who now has his own cosy and inviting space to call his own.
Give your home the makeover it deserves. Let us elevate your interiors to new heights – contact us for a complimentary consultation.