It seems like the ever-rising popularity of the scandi-industrial theme has reached new heights because the homeowners of this 5-bedroom condominium located at The Signature at Yishun approached Monoloft designers with exactly this aesthetic in mind. The husband-wife duo with their 2 boys wanted a home ambiance that would be soft, comfortable and relaxing while being effused by an edgy appeal. They wanted advice on the perfect material choices and what kind of fixtures to use in order to achieve the results they'd been dreaming of.
Size of Home: 5 Room Condominium
Renovation Period: 2 months
Location: 37 The Signature
Home to: 3 Adults, 2 Children
In response, our designers came up with a classic combination of soft, brightly light Scandinavian spaces embellished with the dark, vibrant, and distinct filigree of industrial looks. The exotic combination of distressed surfaces, creative light fixtures, and sleek, retro furniture delivered exactly what the homeowners had been looking for. Let's look at a detailed narrative of what else this theme delivers: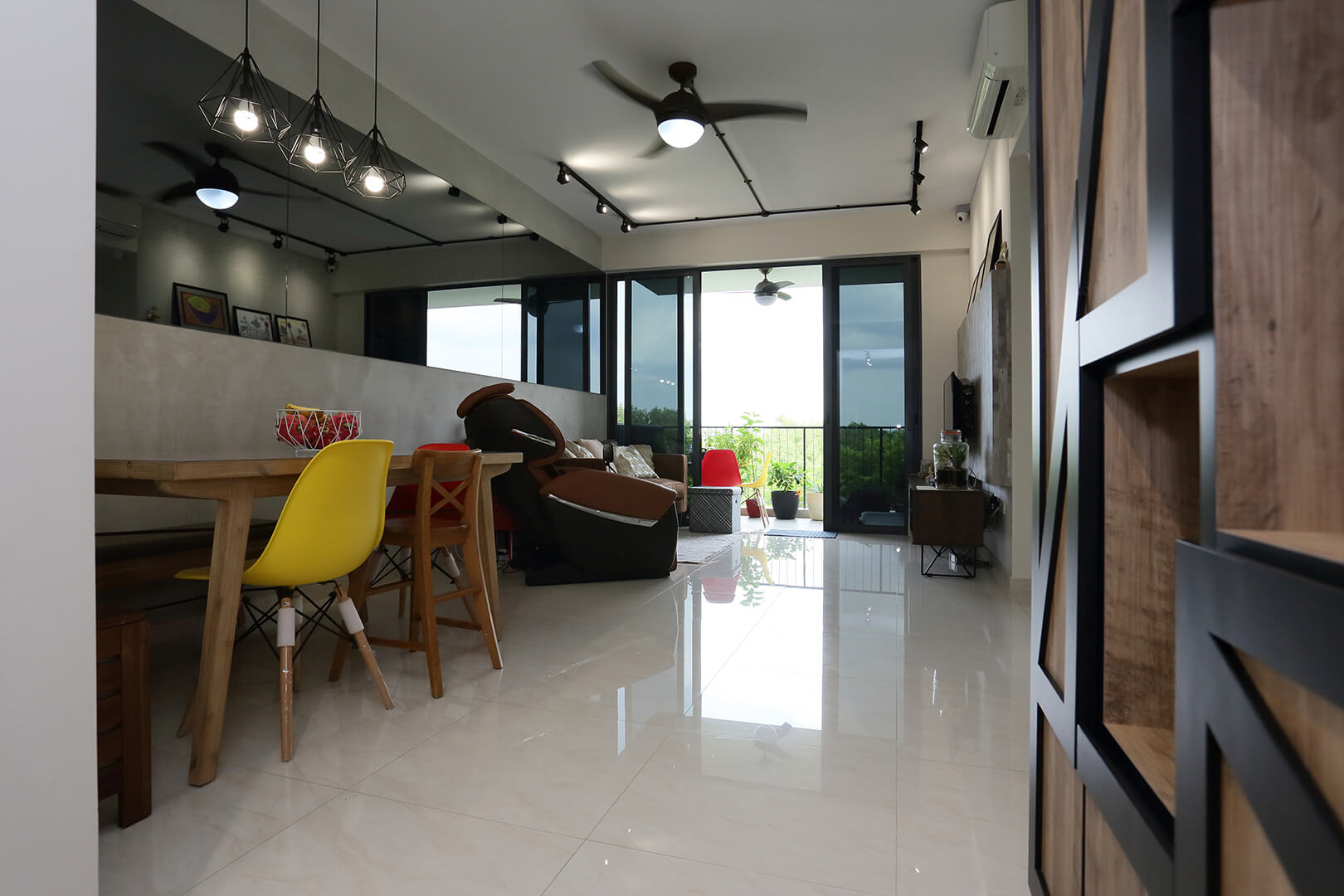 Typical entrance areas lack panache, but Monoloft designed this one with customized full-height carpentry to make an instant statement. The asymmetrical arrangement of all the shelving is highly attractive. The warm wood finishes make the entrance look welcoming, while the storage space provides a functional aspect that sets it apart from conventional entryway embellishments.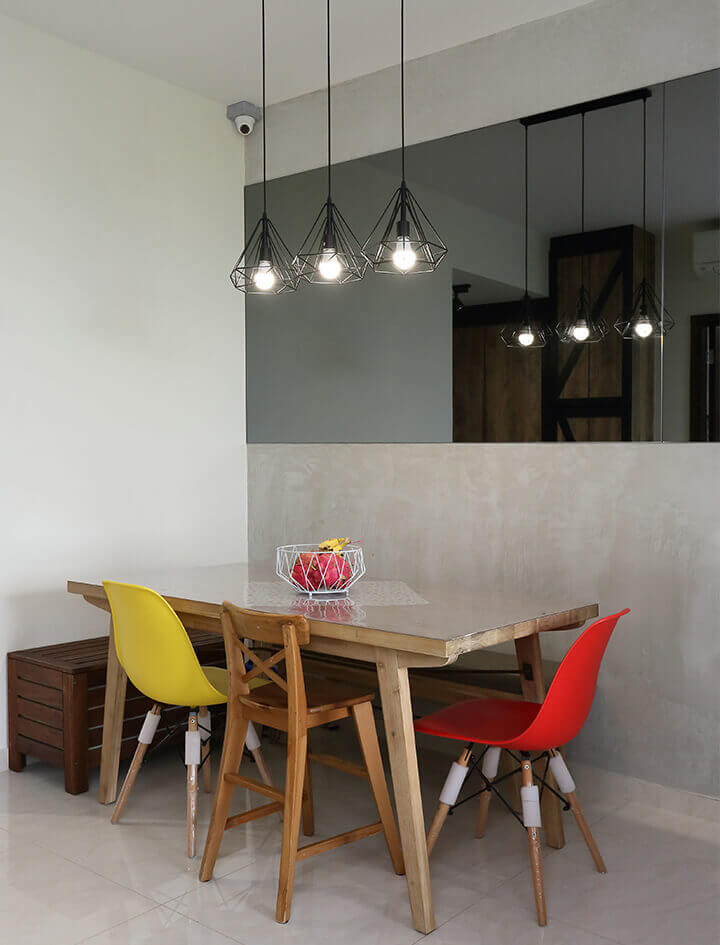 Continuity is one of the most important factors in interior designing – especially when you're working with a dichotomous theme like scandi-industrial. Monoloft designers bridged the two aspects by cladding the entire top half of the living room feature wall in tinted mirror and pairing it up with concrete screeding at the bottom. The juxtaposing sleek and distressed textures create an interesting mix, which is complimented by the contrasting furniture and light fixtures at its front. In fact, the bold brown-hued furnishings with its yellow and red accents keeps the space from looking monotonous, and highlights the simple beauty of its backdrop even more.
We're very impressed by the innovative interior finishes. The concrete sceeding and tinted mirror in the living room makes our home look so much more spacious.

Emilie, Homeowner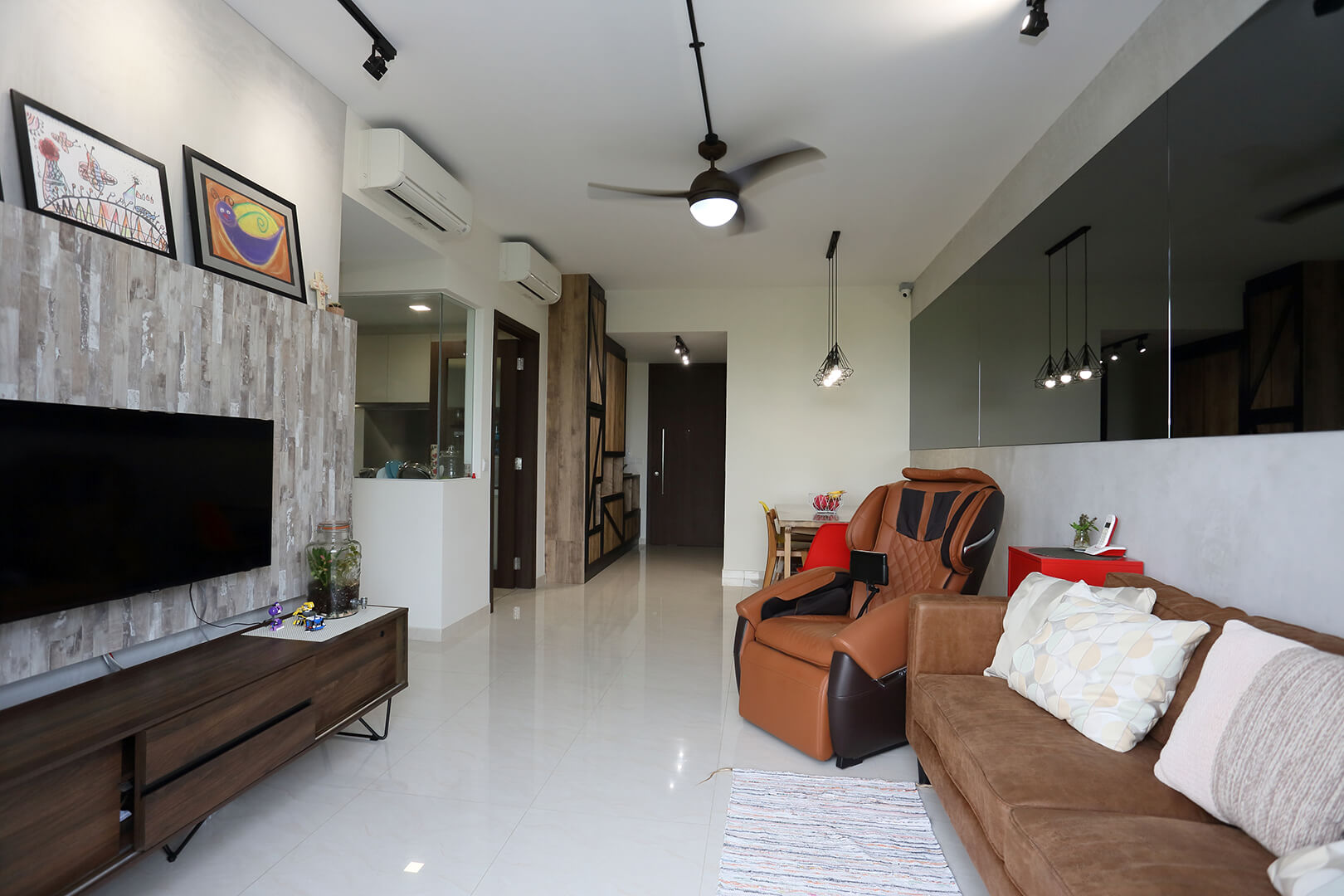 Media walls have taken on the 'feature' capacity in all home interiors these days, and this one has been specifically crafted to suit the -industrial theme. It's slightly protruded outwards and is finished with a unique ash-wood textured laminate that complements the industrial end of the overall scheme. Its top half has been utilized to feature statement artwork, the middle features a sleek LCD screen, and the bottom half is embellished by a charismatic-looking media console that acts in both functional as well as aesthetic capacity. It matches the furniture design quite well, and helps create a holistic ambiance.