Every newlywed aspires to start a life on their own together, and in preparation for their wonderful beginning, Vincent Tan and his wife Esther scouted for a new home. They fell in-love with a 90sqm 4-room flat at Canberra Crescent; the location suited their millennial lifestyle along with their work. Plus, it would be a great home for Brownie, their beloved Norwich Brownie who would be living with them. Wanting to incorporate a sense of laidback-ness into their dream home, Vincent enlisted us to help them redesign their space.
Size of Home: 4-bedroom BTO Flat
Renovation Period: 2 months
Location: 120BCanberra Crescent
Home to: A Married Couple and 1 Dog
We prefer a practical and functional design, something clean and easy on the eye.

Vincent Tam, Homeowner
His wife, Wendy on the other hand, wanted us to pay attention to the interiors and wished for something easy to maintain and less-cluttered. When it comes to colours, the couple preferred earthy, muted tones.
After taking note of their requests, we hit the drawing board and came up with a clean Scandinavian theme. The couple will be welcomed by the living room, where we proposed a vinyl flooring overlay to create a warm wood finishing and feel. Not only was it visually appealing; the grain texture also offers better grip for Brownie as he runs about the house. To give the space a clean look, we discarded the idea of bulky full-height consoles and gave them a symmetrical shelving design with a smart corner shelving.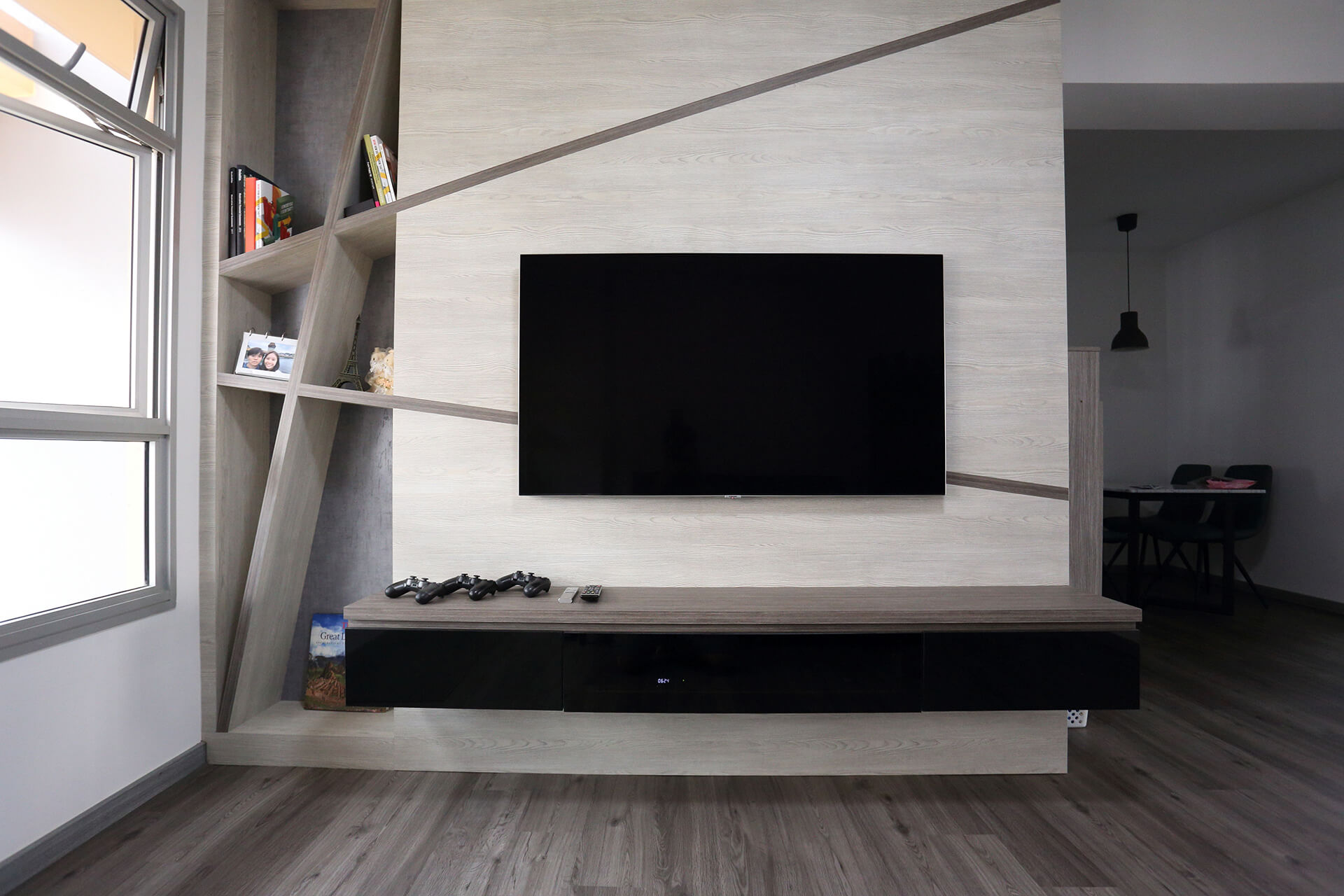 Vincent likes to keep in shape, and so, we infused his personal study with a gym corner. Here, we installed a customised work-desk with an angular shape to sync-in with the symmetrical lines from the living room. For a more masculine tone, we added a cobalt-blue wall that unifies the look from the blue-grey sofa lodged on the living room.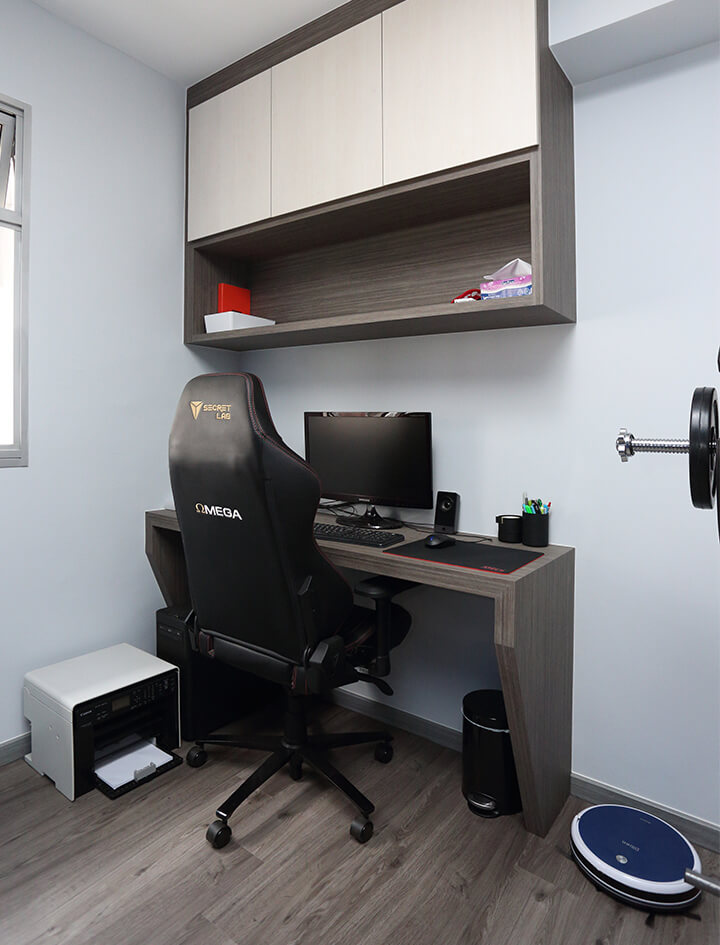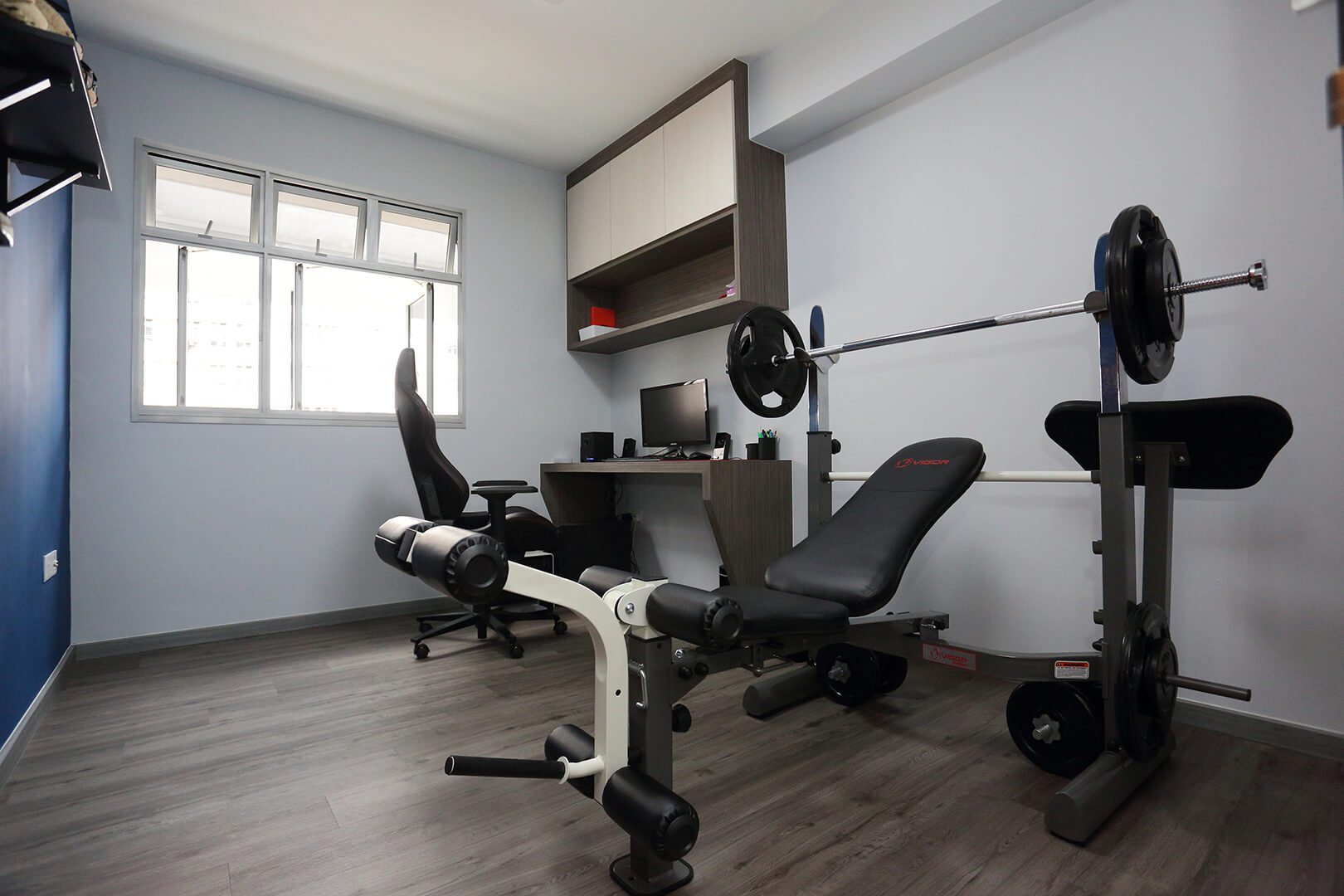 For the main bedroom, we followed through the off-white, wood-patterned vinyl overlay while adding touches of grey and blue on the bed itself. We constructed a built-in wardrobe and a customized bedside table appended on the wall, so the couple can use the upper and lower space for storage. Inside the master bedroom, we have also constructed the master bathroom in bright white and sienna colours.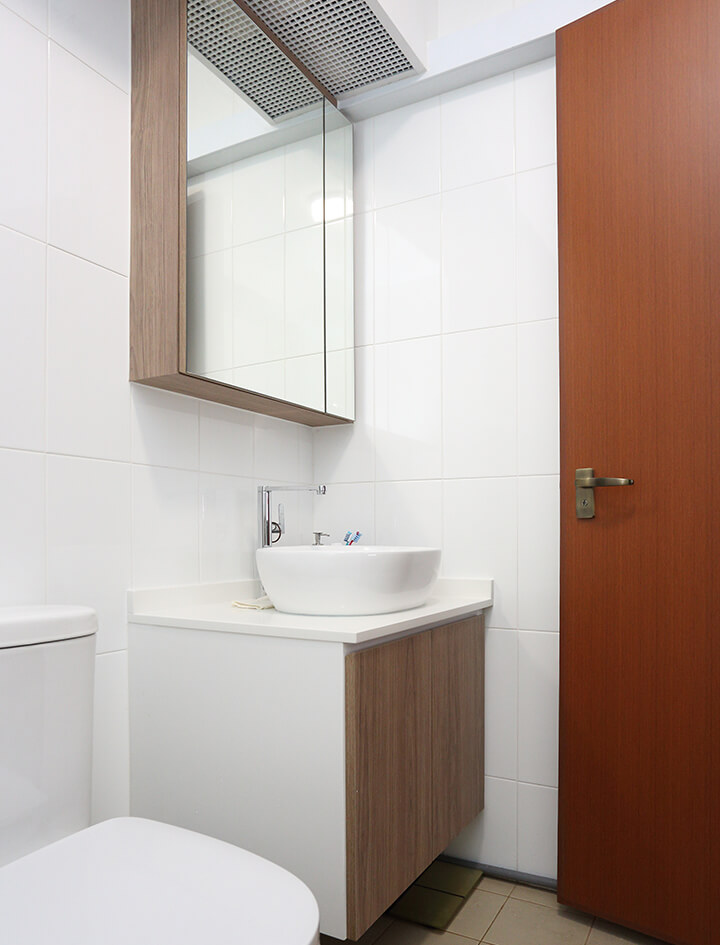 Esther loves to enjoy her free time in the kitchen. We went all-out with the upper and lower cabinetry that creates a harmonious look with the silver-toned appliance. The kitchen countertop looks immaculate with a white season stone slab, while the sink and the rest of the hardware are all in coal colours. The same theme follows the dining room, which consists of a four-chaired corner well-lit by an industrial pendant lamp overhead.
The renovation period took 2 months, but the finished results were worth the wait. Through planning – and some surprise twists – we were able to construct an airy space that capitalizes on natural lighting, clean lines and amazing wood textures.