Renovation Promotion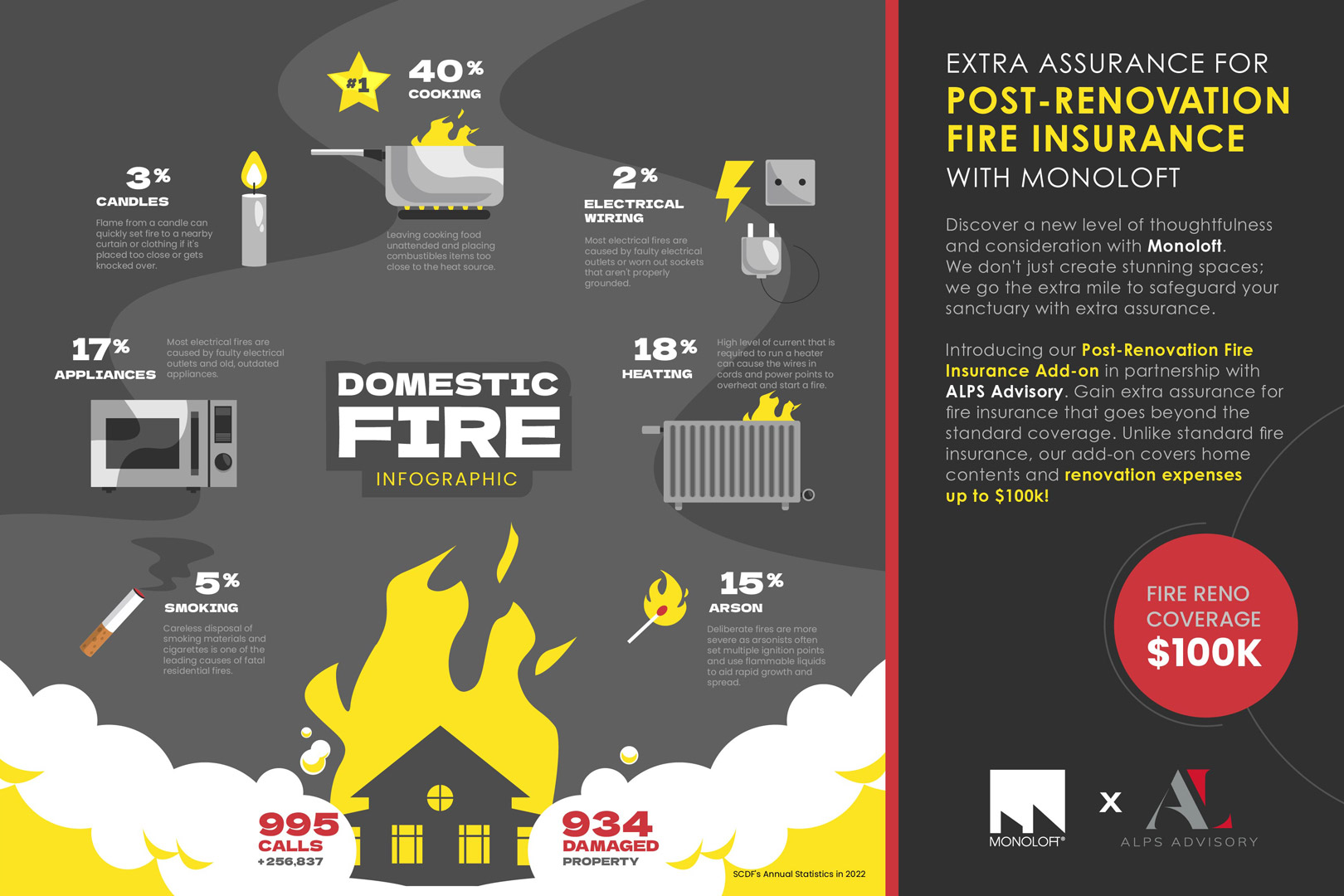 Extra Assurance for Post-Renovation Fire Insurance with Monoloft
Attention Homeowners! Experience the Perfect Blend of Design and Protection for Your Dream Home!
Discover a new level of thoughtfulness and consideration with Monoloft, the interior design studio. We don't just create stunning spaces; we go the extra mile to safeguard your sanctuary with extra assurance.
Introducing our Post-Renovation Fire Insurance Add-on in partnership with the ALPS Advisory. Gain extra assurance for fire insurance that goes beyond the standard coverage. Unlike standard fire insurance, our add-on covers home contents and renovation expenses over $100k!
🔥 Fire incidents after a renovation? Fear not! We prioritise your safety and peace of mind. Our collaboration with ALPS Advisory, working with the established insurance company, ensures comprehensive coverage beyond your expectations.
🌟 Your sanctuary, our priority: We understand that your home is more than just a space. It's a reflection of your dreams and aspirations. That's why our Renovation Fire Insurance Add-on doesn't stop at structural fire damage. We ensure that every little detail, including fittings and furnishings, is covered, with protection equal to your renovation costs. Additionally, we offer coverage for alternative accommodation, personal belongings, medical expenses, hospital allowances, and other benefits to give you complete protection.
✨ Trust in our expertise: Your dream home and investments are in safe hands with us. Our meticulous approach to design extends to ensuring your newly renovated home is shielded from unforeseen events. You can have full confidence in our commitment to your well-being.
💥 Act now! Enlist our renovation services and enjoy a FREE one-year insurance policy! Experience the joy of creating your dream home while we handle the rest. Your trust in us will be rewarded with unrivalled care and protection.
Call 6677 0396 or book a complimentary 1-on-1 consultation with us to embark on a journey where design meets security. Trust Monoloft to have your best interests at heart as we renovate and safeguard your home.
Because for us, it's not just about creating exceptional spaces—it's about preserving and cherishing them for years to come. Because your home deserves the utmost care and protection.