Luxury Condo Interior Design
Featured Project: The Tapestry / 3 Bedroom Condominium / Modern Luxury / Monoloft
Condominiums are characterised as dwelling units owned by separate individuals within a larger residential complex. If there are amenities like swimming pools, tennis courts, parking garages, and barbecue pits in the condo building, they are reserved for the use of the residents. Larger floor tiles, scratch-resistant main doors, and stainless steel fixtures in the bathroom are just some of the standard amenities found in condos.
Regarding the square footage of your condo, you can trust that our interior designers will design a space that is both beautiful and secure for your family. We'll implement space-saving measures, including multifunctional furnishings, and we'll utilise our insider knowledge to make your apartment seem more spacious. At luxury condo interior design, we make it a point to listen to our homeowners to provide them with condo interior design services that meet all of their demands and preferences. We will tailor our efforts to your preferences, whether that be a simple or ornate design, always keeping in mind the importance of form and function. Indicate the areas of your condo that need our attention most so that we may renovate them accordingly.
Monoloft 3-room condo interior design services include a wide range of construction tasks, from masonry to plumbing to electrical to painting and carpentry. If you're looking for residential interior design services, go no further than us! There is no mystery about our plan. Our goal is to make it possible for you to build the house of your dreams.
Aesthetic Advice for Condominium Interiors
Is there anything you can do to make your apartment seem roomier? Some simple adjustments might make your apartment seem much larger than it really is.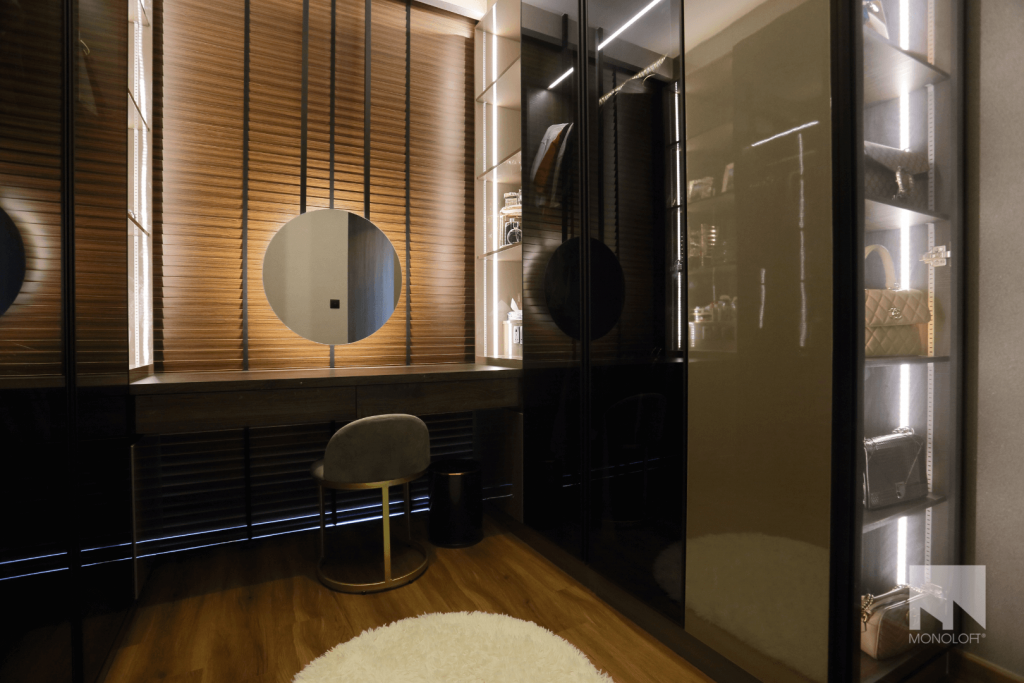 Featured Project: The Tapestry / 3 Bedroom Condominium / Modern Luxury / Monoloft
Reflective Surfaces
Mirrors are a great technique to provide the impression of more space in a room. When placed strategically, mirrors provide the impression of expanded living quarters. Placing mirrors across from a window or other source of natural light can help to make the space seem more airy and spacious.
Illumination
In every dwelling, lighting is a crucial component since it can be used to create the illusion of a larger space. A well-lit room gives the illusion of more space. That's why it's up to you whether or not to employ a single source of illumination. The light should be dispersed as evenly as possible. Having this effect will provide a sense of airiness and spaciousness.
Multi-Functional Pieces of Furniture
Furniture that can serve many purposes, such as a storage bed or a table that folds up, is ideal when the room is at a premium. Having less bulky furniture around makes it easier to conceal clutter and frees up floor space. If you clear the clutter from your home, it will seem more open.
Interior Designing for a Condo: Some Advice
There may be significant distinctions between remodelling an HDB and renovating a condo, whether the latter is brand new or a resale. This is because of the rules and restrictions placed on the developer. Keep the following in mind before hiring us to remodel your condo: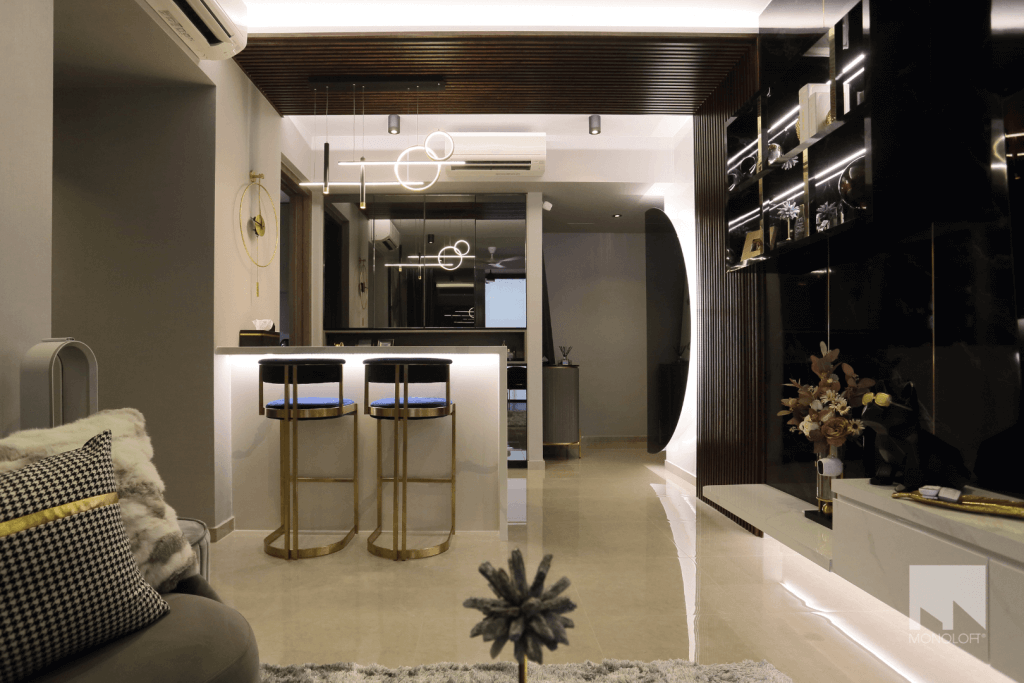 Featured Project: The Tapestry / 3 Bedroom Condominium / Modern Luxury / Monoloft
Tips for Coders:
Developers of residential properties in Singapore must follow regulations like this one. In addition, they can have regulations that prohibit you from making certain changes to your house. Condominium owners should get approval from the building's management before beginning any major renovations.
Remodeling an Existing or New Condo:
Renovation costs for newer condos are often lower since they already have standard appliances and fixtures in the kitchen and bathrooms. These fittings are pre-installed, so you may save a lot of money unless you are really particular and wish to change them. It's not uncommon for older condominiums to need hacking and concealing works during remodelling, which may drive up the price.
To Visualize Your Ideal Layout:
Having a clear vision for the finished product can help streamline the refurbishment process. View our stunning collection of interior design work here.
Now is the time to consult with us about your condo's remodelling plans.
Own an apartment in Singapore? Is an interior designer what you need for your next remodelling project? You have found the correct page. A condo renovation is extremely different from an HDB renovation. Keeping up with all the many regulations may be an overwhelming task. When it comes to following guidelines and producing high-quality results, Swiss Interior is an excellent choice. Let us help you make your condo more comfortable.
Because of our extensive background, we are aware of the various obstacles that must be overcome throughout condo interior design projects. Due to limited square footage, condominium decorating may be difficult for residents who lack interior design expertise. Condominiums in Singapore often come in smaller sizes than comparable HDB flats. There should be no need to sacrifice style because of limited quarters.
Some of Our Finest Attempts at Condominium Interior Design
You are invited to peruse our collection of the finest examples of  luxury condo interior design we have ever created. Scandinavian, minimalist, modern, and even industrial styles are all represented here. Join us now and let's start building your ideal house!
Featured Project: The Tapestry / 3 Bedroom Condominium / Modern Luxury / Monoloft